Promate LOOP-44XL.NAVY
/shop/pro-gft-loop-44xl-navy-promate-loop-44xl-navy-8702
Promate Loop-44XL Navy Blue
-Premium Soft Silicone Built:
The super-soft silicone band with a minimalistic yet elegant design makes you feel comfortable on the wrist. This replacement Apple watch wristband is elastic and flexible, so it can be stretched easily. The Silicon band is sporty and functional without compromising on the Apple Watch's beautiful design.
-Water and Sweat Resistant:
Featuring an excellent sweatproof and splash-proof design, this strap is an ideal accessory for all sports enthusiasts.
-Easy to Use and Remove:
The silicone apple band is designed with unique functionality with no buckle on the strap so that it becomes an effortless job to put on and take off. There are lugs on both ends of the strap that can be safely locked on your respective Apple watch's interface.
-Lightweight and Sporty Design:
With greater flexibility and narrower width, the Promate Apple watch strap is lightweight and features a cool sporty look with a smooth finish..
-Strap Designed for 42mm/44mm Apple Watch:
Featuring a stylish sporty look, the Promate apple watch band fits smoothly with a capacity to securely attach itself to the Apple Watch of size 42mm/44mm respectively.
-Perfectly Fitted with Right Wrist Size:
Designed specifically for an apple watch 42mm and 44mm, the Strap in Extra Large size (XL) is customized with a wrist size between 200mm to 210mm so that it fits nicely.
-Completely Secured Fit:
No need to worry about the watch band dropping from your wrist even while you are running or doing intense exercises, as the no-buckle design offers a perfectly secured-fit for better protection of the device.
-Designed Specifically for the Apple Watch Series:
Designed specifically for Apple Watch Series 1, 2, 3, 4, 5, 6, SE, (42mm and 44mm) in mind, the 'Loop' silicone strap will compliment your watch perfectly.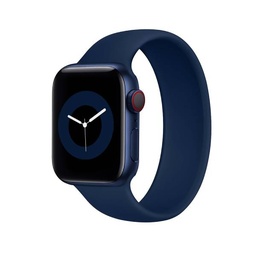 Promate LOOP-44XL.NAVY
Rs 

890.00
890.0
MUR
Rs 

890.00
Rs 

999,999.00