Promate FUSION-44M.BLUE
/shop/pro-gft-fusion-44m-blue-promate-fusion-44m-blue-8701
Promate FUSION-44M.BLUE
Soft and Skin-Friendly Nylon Braided Strap: 
This Nylon apple watch strap is made of polyester yarn filaments which are interwoven with thin silicone threads using advanced braiding machinery. It's easy to wash and make sure to give you a comfortable wearing experience all day long.
Stylish and Lightweight: 
Promate Apple Watch Band 'Fusion' is lightweight even after skillfully prepared from premium quality stretchable Nylon. Stylish and soft solo loop with no buckle protects from snagging or scratching and creates a super comfortable environment for daily wearing.
Completely Safe and Secure: 
The newly updated connector at both ends perfectly locks into the Apple Watch interface to avoid unintentional slips off or being easily stolen. The connected lugs on both ends are easy to install and removed with no tools required.
Easy to Use Single Loop Design: 
The Nylon iwatch band is designed with a distinctive functionality featuring a single loop design with no buckles on the strap to create convenient usage whenever you would be wearing the watch or taking it off.
Fits Effortlessly to Apple Watch 42mm/44mm: 
Designed to be durable, strong, and comfortable, the Promate nylon apple watch band fits smoothly and securely to your Apple Watch of size 42mm/44mm respectively. With a capacity to attach perfectly, you do not need to worry about any loosened ends and that your watch will safe all the time.
Designed Specifically for the Apple Watch Series:
Created especially for Apple Watch Series 1, 2, 3, 4, 5, 6, SE in mind, the 'FUSION' nylon strap will suit your watch and wrist perfectly be it any occasion.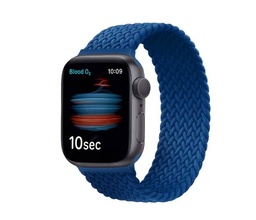 Promate FUSION-44M.BLUE
Rs 

890.00
890.0
MUR
Rs 

890.00
Rs 

999,999.00