Promate Multi-Function High Speed USB-C™ Hub LINKHUB-C
Promate Multi-Function High Speed USB-C™ Hub LINKHUB-C
/shop/pro-hub-linkhub-c-promate-multi-function-high-speed-usb-ctm-hub-linkhub-c-4985
LinkHub-C adds 2 additional USB ports, 4K HDMI port and a MicroSD/SD card slot, allowing you to connect USB devices such as digital cameras, phones, external hard drives, flash drives, and printers all at one convenient place. The USB-A ports support a data transfer speed of up to 5Gbps. LinkHub-C does not require any software or complicated installation process, just plug it in and use. 
Tech Specs
Input Interface: 2 USB 3.0 Type-A Ports, MicroSD Card Slot and SD Card Slot, HDMI Port
Output Interface: USB 3.0
USB voltage: 5V, 900mA
Transfer rate: 5Gbps
OS Support: Windows 10 / 8 / 7, Mac OS X 10.2 (and above)
Features
More Ports: Turn one of your computer's USB-C ports into 2 USB ports, a 4K HDMI Port, a MicroSD card slot and an SD card slot.
Ultra-Portable: Weighing about an ounce and super small, this Ultra Slim Hub is designed to be as portable as possible.
Extra Durable: A reinforced built-in cable, sturdy exterior and heat-resistant connectors give this hub incredible durability.
Do More Simultaneously: Increase your USB plug-in capacity by up to 2 ports.
4K HDMI Support: Enjoy a crisp, clear display that is perfect for videos, animation, games or presentations, the adapter supports up to 4K HD at 30Hz so that you can experience a high quality, clear display.
Ultra-Fast: LinkHub-C USB 3.0 2-Port Hub provides 5 Gbps transfer speeds, which is 10X faster than USB 2.0
Perfect hub: LinkHub-C is perfect for peripherals like USB 3.0 hard drives, digital and video cameras and high-resolution webcams.
Plug And Play: Plug & play setup requires no software and is ready to go right out of the box
Backwards Compatible: It is also backwards compatible with USB 2.0 devices.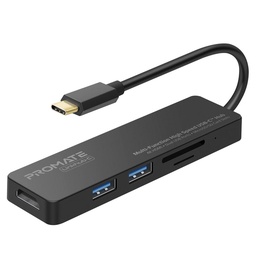 Promate Multi-Function High Speed USB-C™ Hub LINKHUB-C
Rs 

1,790.00
1790.0
MUR
Rs 

1,790.00
Rs 

1.00