Promate MAGLET-44.BLTIC_BLUE
Promate MAGLET-44.BLTIC_BLUE
/shop/pro-gft-maglet-44-bltic-blue-promate-maglet-44-bltic-blue-8699
Promate Maglet-44 Bltic_Blue
Features

-Luxurious Genuine Leather Strap:
The watchband is crafted with premium 100% Genuine Leather, sporting a fashionable and classy look. Made with premium quality leather, the strap provides a skin-friendly, soft, and comfortable touch feeling on your wrist.
-Stylish Contemporary Design:
The genuine leather band for the Apple Watch features a more elegant, fashionable, and minimalist contemporary design that looks sophisticated on your wrist.
-Completely Adjustable:
With an easy magnetic lock functionality, the apple watch band adjusts to your desired wrist size without any buckle or clasp hassle and gives you a sophisticated and full of comfort experience.
-Strong Magnetic Lock:
This Apple Watch strap comes loaded with in-built powerful magnets which automatically locks the watch as per your wrist size with strong magnetic hold and ensure proper safety even while you do intense running or playing.
-Safe and Secure Fit:
The leather band comes with premium quality connectors on both ends, which lock onto your apple watch perfectly, and protects it from easily slipping it off Moreover, with single loop design fits securely on your wrist giving you complete safety from being stolen.
-Fits Smoothly to Apple Watch 42mm/44mm:
Designed to look perfect, the Promate genuine leather apple watch band fits smoothly and securely to your Apple Watch of size 42mm/44mm, respectively.
-Simple to Install:
The watch features high-quality watch lugs on both ends which easily fits onto your watch interface as and when needed.
-Designed specifically for the Apple Watch Series:
Designed specifically for Apple Watch Series 1, 2, 3, 4, 5, 6, SE, (38mm and 40mm) in mind, the 'Maglet' Leather strap will compliment your watch perfectly.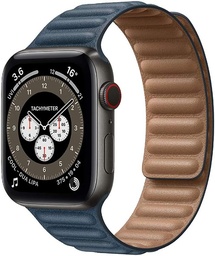 Promate MAGLET-44.BLTIC_BLUE
Rs 

1,290.00
1290.0
MUR
Rs 

1,290.00
Rs 

999,999.00