Promate Cooling Pad (AIRBASE-3.BLACK)
Promate Cooling Pad (AIRBASE-3.BLACK)
/shop/pro-cooling-pad-airbase-3-black-promate-cooling-pad-airbase-3-black-3402
AirBase-3 features 4 high-speed fans that generate cool air to keep the laptop running efficiently and prevent overheating. The rubber grips on the surface of the AirBase-3 keep your laptop in place to provide a sturdy workspace. The fan speed can be controlled, to maintain an optimum temperature of your laptop. The fans are working to dissipate heat quickly and work silently. The device plugs directly into the USB port and no additional power is required. 
Keep Your Laptop Looking and Feeling Cool
The Promate AirBase-3 sleek, rustic design that complements your laptop perfectly, while its extra-large, extra-quiet fan is the perfect way to keep your laptop cool while you work. Just rest your laptop on the stand, plug the USB-A adapter in (no external power is required) and feel the heat dissipate from your laptop within seconds.
Dual USB Ports
The AirBase-3 cooling pad consists of two USB Ports. One port conveniently powers the pad with no requirement for a power adapter, while the latter can be used to connect phones, hard drives, keyboards and other USB devices. This enables you to use all your devices while keeping your computer at its optimal temperature. Your computer will stay cool while you work, study, or play games. The two-port design ensures user convenience. A USB cable is included in the box so that you may begin using the product immediately.
Powered by Your Laptop's USB-A Port
In keeping with the eco-friendly mission of the Promate AirBase-3, it doesn't require any external power source to work, making it a light, space-friendly solution for laptop cooling. Simply plug its USB connector into the USB-A port on your laptop and you'll be ready to go
Powerful and Quiet
The laptop cooling pad features 4 Fan 140mm fans designed to prevent your laptop from overheating by pulling in cool air while maintaining a low profile. RED LED lights indicate that the pad is working so that you may easily detect when the fans are on, especially at night. Rolling the rotary controller adjusts the fan speed. Quiet fans create a noise-free & interference-free environment for you
Adjustable Fan Power and LED Brightness
Adjustable fan speed gives you the best balance between silence and performance. Features an adjustable wheel that controls the power of the fans and LED lights. Increased lighting with increased fan power. Set the fan speed to the maximum at the beginning and slow down when the laptop has been cooled down for optimum performance. The LEDs illuminate through the mesh and add to the aesthetics of this product.
Compatible with All Laptops Up To 17"
This laptop cooling pad is designed to create superb comfort for all laptop users. It supports a variety of laptop sizes up to 17'', and the extremely sturdy polished metal mesh provides a stable surface for you to enjoy working on the computer.
Tech Specs
Fan Dimension: 140*140*20mm
Fan Speed: 2100±10%RPM
Fan Airflow: 75CFM
Fan Noise: 25dB
Power Input: DC 5V
Compatibility: Supports up to 17" Laptops
Features
Quiet Cooling: A silent 140 mm fan that generates 75 CFM of airflow to deliver cold air to your laptop's heated chassis
Ultra Slim Profile: Standing only 41 mm at its highest setting and weighing a mere 620gms, AirBase-2 is both thin and lightweight, making it easy to take with you on the go.
Superior Airflow: The perforated metal mesh surface enables excellent airflow and greater heat displacement.
Adjustable Height: The multi-height adjustment pegs allow you to incline the pad to your desired viewing angle easily
USB power connector: The USB connectors allow for pass-through functionality, so you do not lose a USB port.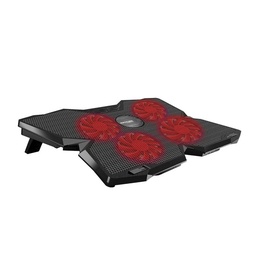 Promate Cooling Pad (AIRBASE-3.BLACK)
Rs 

1,590.00
1590.0
MUR
Rs 

1,590.00
Rs 

999,999.00