Promate Converter HDMI to VGA Black (PROLINK-H2V.BLACK)
Promate Converter HDMI to VGA Black (PROLINK-H2V.BLACK)
/shop/pro-con-prolink-h2v-black-promate-converter-hdmi-to-vga-black-prolink-h2v-black-3399
The ultimate update for your legacy VGA devices, the Universal HDMI to VGA Adapter allows you to seamlessly stream content from HDMI devices like Chromecast, Apple TV and other HDMI-capable devices to your projector, TV or other VGA display. 
HDMI-to-VGA Adapter
Connects your computer, laptop, tablet, Apple TV, Chromebook, Surface Book, Raspberry Pi, or other device with HDMI to an external monitor or projector through the VGA port. Carry this lightweight adapter in your laptop bag for a business or classroom presentation from your computer or use it on the desktop to extend your screen to a monitor.
No External Power
HDMI-to-VGA cable adaptor converter doesn't need any external power to operate. Simply plug and play operation, ultra-compact professionally-constructed lightweight cable adaptor.
Full HD Video Support
For resolutions up to 1920x1080 including 720p, and 1600x1200 for compatibility with most VGA displays and HDTV monitors or projectors. Note: Extra power is needed to use it with an Apple MacBook.
Gold-Plated Connector
Gold-plated HDMI connectors, wear and corrosion-resistant to ensure a long lifespan to the cable and HDMI port connectors of the PC/laptop/Apple TV and more. FlexShield PVC coated copper cable for super transmission.
Super Compatible
Supports Windows, Mac, and iOS. The HDMI-to-VGA converter is compatible with desktops, laptops, ultrabooks, notebooks, Intel NUCs, Rasbperry Pi, Chromebooks, Apple TVs, Roku streaming media players, cable boxes, and other devices with HDMI port.
Tech Specs
Video Output: Up to 1920 x 1080/60Hz
Video Bandwidth: 1.65Gbps
Inputs: HDMI x 1, VGA x 1
Features
Plug and Play: Out of the box ready installation
Universal: Purpose-built to work flawlessly with the latest in mobile mirroring and streaming technology
Superior Design: Ultra-compact professionally designed lightweight cable adapter
HD Video Support: Video output to 1920x1080 supported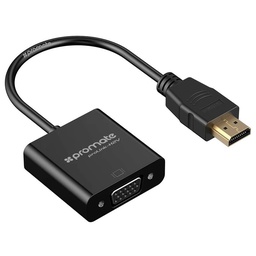 Promate Converter HDMI to VGA Black (PROLINK-H2V.BLACK)
Rs 

750.00
750.0
MUR
Rs 

750.00
Rs 

999,999.00