Pendrive SP B06 128Gb White
Pendrive SP B06 128Gb White
/shop/pen-sp-b06-128-w-pendrive-sp-b06-128gb-white-3207
Store It, Color It
Shape your memories with the perfect angle
With an angle of 13.14°, Blaze B06 displays the unconventional bevelled-shape to showcase the extraordinarily voguish style. Blending elegance with a modern streamlined drive body, Blaze B06 comes to be the perfect combination of hi-tech and high fashion.
Snap-on cap design
Blaze B06 adopts the ingenious snap-on cap design by which users can easily use and store without worries from cap loss. And the groove design at the end of the body makes it a truly fashion accessory that can be easily attached to your purse, bag or key rings.
SuperSpeed USB 3.2 Gen 1 interface
SuperSpeed USB 3.2 Gen 1 (USB 3.1 Gen 1 & USB 3.0) interface enables blazing-fast speed performance to quickly transfer large files including HD videos, high-resolution photos and great numbers of documents in seconds.
Specifications
Capacity
8GB, 16GB, 32GB, 64GB, 128GB
Dimensions
59.7 x 19.4 x 10.0 mm
Weight
9.0 g
Color
White
Interface
USB 3.2 Gen 1 (USB 3.1 Gen 1 & USB 3.0, USB 2.0 backwards-compatible)
Supported OS
Windows 10/8.1/8/7/Vista/XP, Mac OS 10.3.x or later, Linux 2.6.x or later
*Transfer speeds fluctuated or dropped when I copied/moved files to USB drive on a Windows 10 system.Please click here for more information
Operating Temperature
0° C ~ 70° C
Patent
TW Patent:D165189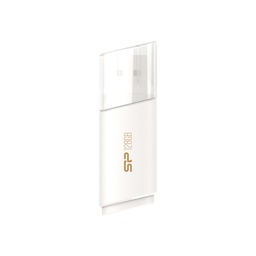 Pendrive SP B06 128Gb White
Rs 

590.00
590.0
MUR
Rs 

590.00
Rs 

999,999.00