TP-Link Wireless Router 3000Mbps (Archer AX53)
TP-Link Wireless Router 3000Mbps (Archer AX53)
/shop/nr-tp-archer-ax53-tp-link-wireless-router-3000mbps-archer-ax53-8606
Archer AX53
AX3000 Dual Band Gigabit Wi-Fi 6 Router
   Next-Gen Gigabit Wi-Fi 6 Speed—2402 Mbps on 5 GHz and 574 Mbps on 2.4 GHz band ensure smoother streaming and faster downloads.
   Connect More Devices—OFDMA technology increases capacity by 4 times to enable simultaneous transmission to more devices.
   Ultra-Low Latency—Enables more responsive gaming and video chatting.
   Expanded Wi-Fi Coverage—Four high-gain external antennas and Beamforming technology combine to extend strong, reliable Wi-Fi throughout your home.
   TP-Link HomeShield - Enhanced security defends against the latest cyber threats.
   Improved Battery Life—Target Wake Time helps your devices to communicate more while consuming less power.
   Compatible with Alexa—Control your router via voice commands and make your life smarter and easier with Amazon Alexa.
"The Next Wave of
Home Connectivity"
AX3000 Gigabit Wi-Fi 6 Router
Archer AX53
160MHZ
Bandwidth
2× bandwidth
Gigabit Ports
HomeShield
OneMesh™
The Next Generation of WiFi is Upon Us
Wi-Fi 6 (802.11ax) could turn out to be the most significant advancement in WiFi development, delivering a huge boost in speed and total capacity. Mainstream adoption of Wi-Fi 6 is inching ever closer with more and more AX clients available. It's the right time to upgrade your router to the newest generation of WiFi !
Blazingly Fast Gigabit Speed Can't Wait
There is no reason to hold off on buying a Wi-Fi 6 router when you can already take full advantage of the speed it delivers. Featuring a 160 MHz bandwidth and 1024-QAM, Archer AX53 delivers true Gigabit speeds of up to 3 Gbps. Enjoy faster streaming and gaming like never before. Powered by a powerful dual-core CPU, this full-featured Gigabit Wi-Fi 6 router allows numerous bandwidth-intensive tasks to run smoothly at the same time.‡
Expected Max Wireless Throughput (Mbps)
867 Mbps
Standard AC 2×2 - 80 MHz Channel
1201 Mbps
Wi-Fi 6 2×2 - 80 MHz Channel
2402 Mbps (Archer AX53)
Wi-Fi 6 Gig+ Speed -160 MHz Channel
3× Faster
Expanded Coverage Throughout Your Home
Four high-gain external antennas and Beamforming technology combine to extend strong, reliable WiFi throughout your home.
TP-Link HomeShield:
Advanced Security for Your Everyday Devices
With TP-Link HomeShield, enjoy advanced secuirty features delivering a safe environment that protects your family and network's data and privacy.
Home Network Scanner

Real-time network scanner to detect potential threats and security issues.

 

Parental Controls

Manage time online and block inappropritate content keeping your family safe online.

 

Quality of Service

Assign your favorite devices to have the fastest connections for top performance.
TP-Link OneMesh™

Flexibly Create Whole Home WiFi
Want to build a whole-home WiFi? Archer AX53 supports OneMesh to form seamless coverage throughout your home, preventing drops and lag when moving between signals.
Traditional Router with Extender

 

Archer AX53 + OneMesh™ Range Extender

 

Multi-Band Backhaul

Single-Band Backhaul

Strong Mesh with Multi-Band Backhaul

 

0.4 s
Roaming 5 GHz

Ultra-Fast Smart Roaming

 

Unified Management
WPA3—The Next Level of Cybersecurity
The latest WiFi security protocol, WPA3, brings new capabilities to improve cybersecurity in personal networks. More secure encryption in WiFi password safety and enhanced protection against brute-force attacks combine to safeguard your home WiFi.
Easy Setup and Use
Whether you prefer the intuitive Tether app or TP-Link's powerful web interface, you can set up your Archer AX53 in minutes.
The Tether app allows you to manage network settings from any Android or iOS device.
Learn more about the Tether app >
Protect Your Children
Block inappropriate content for your children, and customize a time range for better online habits.
New Connection Notification
You will be notified by your phone when new devices connect. Kick off any suspicious connections and block them. It's as simple as that.
Easy Firmware Upgrade
Tired of upgrading firmware? OTA updates enable easy firmware upgrades with a click in the management panel. To keep your security and functions always up-to-date, just turn on the auto schedule.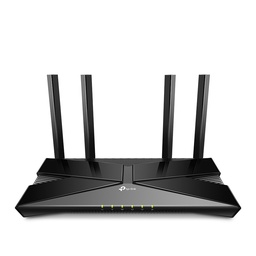 TP-Link Wireless Router 3000Mbps (Archer AX53)
Rs 

4,990.00
4990.0
MUR
Rs 

4,990.00
Rs 

999,999.00