Mouse Cooler Master MM731/Hybrid Mouse/Black Matte
Mouse Cooler Master MM731/Hybrid Mouse/Black Matte
/shop/mu-cm-mm-731-kkoh1-mouse-cooler-master-mm731-hybrid-mouse-black-matte-4775
| | |
| --- | --- |
| Product Number | Black: MM-731-KKOH1, White: MM-731-WWOH1 |
| | |
| --- | --- |
| Mouse Grip Type | Palm, Claw |
| | |
| --- | --- |
| Mouse Material | ABS Plastic, Rubber, PTFE |
| | |
| --- | --- |
| Mouse LED Color | 16.7 Million RGB |
| | |
| --- | --- |
| Mouse Sensor | PixArt Optical Sensor |
| | |
| --- | --- |
| CPI / DPI | 400-800-1200(Default)-1600-3200-8000-19000 |
| | |
| --- | --- |
| Mouse Tracking Speed | 400 ips |
| | |
| --- | --- |
| Mouse Lift Off Distance | < ~2mm / Adjustable |
| | |
| --- | --- |
| Mouse Polling Rate | 2.4GHz/Wired Mode: 1000 Hz, BT Mode: 125 Hz |
| | |
| --- | --- |
| Mouse Lifespan (L/R switches) | Optical Switches, 70 Million |
| | |
| --- | --- |
| Connectivity | Wired, 2.4 GHz, Bluetooth 5.1 |
| | |
| --- | --- |
| Battery Life | 190hrs (BT mode) (with LED Off) / 72hrs (2.4G mode) (with LED Off) |
| | |
| --- | --- |
| Charging | Support Wired charging |
| | |
| --- | --- |
| Compatible OS | Windows 8+, macOS |
| | |
| --- | --- |
| Software | Yes, Cooler Master MasterPlus+ Support |
| | |
| --- | --- |
| Mouse Cable | Detachable Ultraweave Cable, 1.8 M (Type-C to Type-A) with Gold-plated |
| | |
| --- | --- |
| Dimensions (L x W x H) | 122.3 x 69.0 x 39.1mm |
| | |
| --- | --- |
| Weight | Mouse: 59g / 0.13lbs (w/o Dongle & Cable) |
| | |
| --- | --- |
| Disclaimer | *To ensure optimal use of the product, please download the MasterPlus+ Software and update the latest firmware. |
FAMILIAR LOOKS,
DRASTICALLY DIFFERENT FEEL
The MM731 retains the classic design of your favorite pro-grade mice with a sleek ergonomic profile optimized for right-handed gamers. However, an incredibly clever structured design within the housing significantly reduces the weight, clocking in at less than 59g while still retaining a durable shell.
ENERGY TO KEEP
GOING AND GOING
Equipped with a 500mAh battery, the MM731 gives you 190 hours when connected via Bluetooth without needing to recharge, and up to 72 hours when connected via 2.4GHz wireless (with LED OFF), letting you fully focus on gaming/work instead of worrying about where you stored your batteries.
GLIDE LIKE A PRO SKATER
WITH PTFE FEET
There's no need to hit the black market for shady, performance enhancing gear. We've already outfitted your mouse right out of the box with PTFE feet, a common mod in enthusiast mice circles. We'd like to think of them more as mouse skates, providing the kind of effortless glide and premium responsiveness that you can't find in other stock mice. And in case you're wondering, these babies are pure, graded at more than 95% PTFE for an uncut boost to your movements.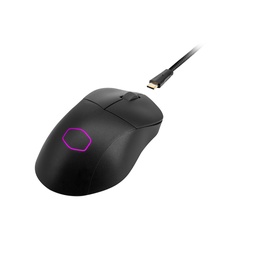 Mouse Cooler Master MM731/Hybrid Mouse/Black Matte
Rs 

4,690.00
4690.0
MUR
Rs 

4,690.00
Rs 

999,999.00