Fast Charging USB-C to Lightning Cable SP LK50CL 60W
Fast Charging USB-C to Lightning Cable SP LK50CL 60W
/shop/ch-usb-sp-lk50cl-fast-charging-usb-c-to-lightning-cable-sp-lk50cl-60w-5935
The Confidence of MFi-Certification
With Apple MFi-certification, this USB Type-C to Lightning cable ensures full charge and sync compatibility with all iPhones, iPads, iPods, and more. It also supports output power up to 60W (max 3A) for a rapid charging experience. Take advantage of the Quick Charge feature on your iPhone 8 or later by charging up to 50% in just 30 minutes when paired with an 18W or higher USB Type-C power adapter.
A Charge-And-Play Mobile Gaming Experience
The cable's ergonomic L-shaped design promotes a comfortable charge-and-play mobile gaming experience. The curved design fits perfectly well with hand placements to play games and keep battery levels up at the same time.
Functional and Mighty Design
The flexible ridges on this 22 AWG cable were inspired by an electric current. This intelligent design offers better protection from direct or indirect damage by safely bending and releasing tension from the cable wires. Furthermore, the PET braided material provides ultra durable strength with a bend test pass rating of 30,000 times.
Hassle-Free Charging Convenience
The cable was thoughtfully constructed with a case-friendly design. It will save even more time by connecting to most mobile devices without needing to remove the case. It also comes with a convenient strap for when you want to store it away.
Specificaties
Gewicht
29g
Materiaal
PVC + PET Braided
Kleur
Gray
Output
5V⎓2.4A, 9V⎓2A,
15V⎓2A, 20V⎓3A
Available Interface (Input)
Type-C
Available Interface (Output)
Lightning
Cable length
100cm/3.3ft
Total Power Output
up to 60W (Max 3A)
Octrooi
TW Patent No. D210281
Certificering
MFi, Green Dot, RoHS, WEEE
Garantie
1 year
Kenmerken
USB Type-C to Lightning cable with MFi certification offers guaranteed compatibility with all Apple products
22 AWG cable supports output power up to 60W (max 3A) for a rapid charging experience
Sync and charge with high-speed data rates up to 480Mbps
L-shaped design provides a more comfortable fit for a charge-and-play mobile gaming experience
PET braided material provides ultra durable strength with a bend test pass rating of 30,000 times
Flexible ridges inspired by an electric current on the L-shaped design offer better protection from direct or indirect damage by safely bending and releasing tension from the cable wires
8 silver contacts with rhodium-plated ruthenium, a material that's more resistant to corrosion
Case-friendly design enables it to connect to most mobile devices without needing to remove the case
100cm/3.3ft length is suitable for most applications
Includes a strap for more convenient storage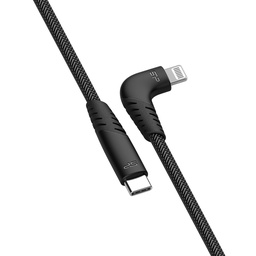 Fast Charging USB-C to Lightning Cable SP LK50CL 60W
Rs 

790.00
790.0
MUR
Rs 

790.00
Rs 

999,999.00